Valentine's Day in 2019 is a bit different from what it used to be before. People are much more dependent on technology now. As a result, various companies are getting super-rich.
The most popular dating app in India is Tinder. According to a recent survey, Indian men under 30 heavily depend on the app to find a date on V Day. While men from North India prefer Tinder, OkCupid is more popular down south. Other popular dating apps for this day are Happn, TrulyMadly and Woo.
The moment you have a date on the Valentine's Day, the next step is to choose a gift for your partner. In India, the majority of love-birds still prefer to go for less expensive items like flowers and chocolates. Most of these gifts are bought online from e-commerce sites like Amazon and Flipkart, a survey by YouGov India revealed.
The trend is similar internationally as well. Established companies like Hershey's, Twizzlers, Kit Kat and Reese's sell big on V Day every year. Last year, Hershey's revenue was 3.67 percent more ($7.791 billion) in 2018, compared to the previous year. The company enjoyed its fourth biggest sale on Valentine's Day, followed by Halloween, Easter and Christmas.
On Valentine's Day 2018, an online floral company called The Bouqs Company earned as much as $1 million, Fox News reported. In 2019, the number is expected to go even higher.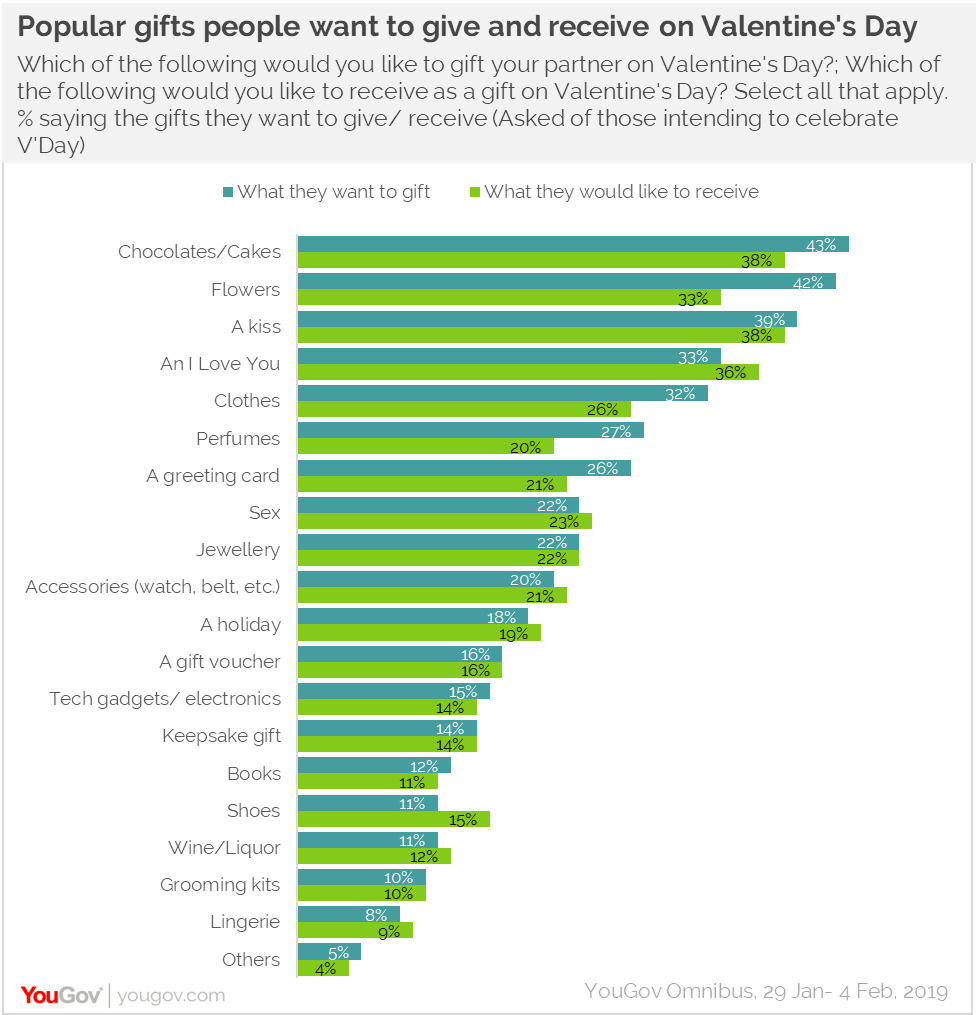 Back in India, a dinner date happens to be the most popular idea. After that, the most popular idea is to watch something online. The growing popularity of OTT platforms like Netflix and Amazon Prime Video offers plenty of choices.
"Special occasions like Valentine's Day present a great opportunity for brands to tailor make their offering to suit the demographic that is looking forward to celebrating these special days on their platforms," YouGov India General Manager Deepa Bhatia said.
What's your plan for Valentine's Day in 2019? Write in the comment section.
[The views and opinions expressed in this article are those of the authors and do not necessarily reflect the views and/or the official policy of the website. ]